Hard Work - R Nait Lyrics
Hello Friends, This is the Latest Punjabi Song

Hard Work Lyrics R Nait.

This song is

Written & Sung by R Nait. Music

of this song is given by

Pendu Boyz

while

Video

is Directed by

Teji Sandhu. Online Promotions

done by

Pixilar Studios.

Project is

Presented by White Hill Music.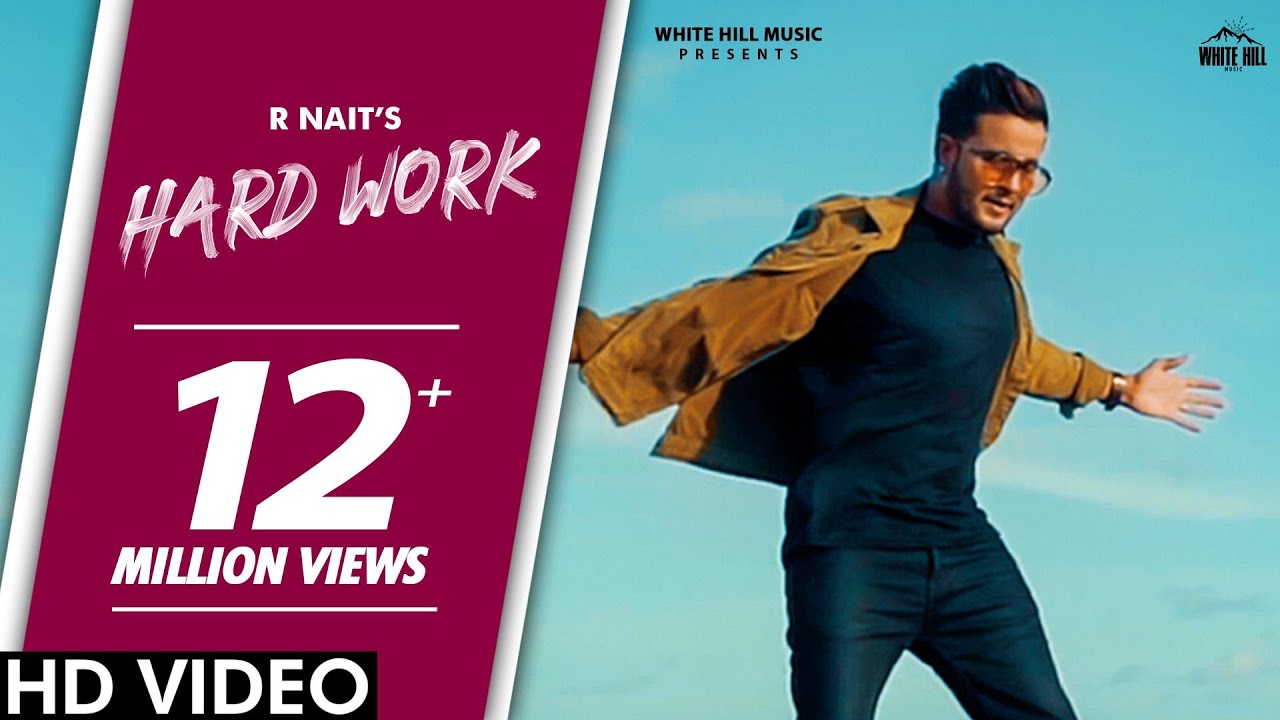 | | |
| --- | --- |
| Singer | R Nait |
| Video | Teji Sandhu |
| Music | Pendu Boyz |
| Song Writer | R Nait |
R Nait
R Nait

Hey
PenduBoyz

Oh Billo badmashi da taan Shaunk koi Na
Mera kehda nale aeh Laana kamm Kardae
Jitho takk Lokaan di Film Pahunchdi
Oddo utte Gabbru da Gana Kamm Kardae

Ohna hi Akhaan ch ajj Agg Varhdi
Jihna ch hundi si kade Sillh Allarhe
Jihna ch hundi si kade Sillh Allarhe...
Haaye ni Agge aaya Hard Work Karke
Kiwen Soft rahuga mera Dil Allarhe

Haaye ni Agge aaya Hard Work Karke..
Kiwen Soft rahuga mera Dil Allarhe..

Ohh Vailpuna dasso penda kehde Mull Nu
Rehndi aa Vakeelaan ton mashook Puchhdi
Enna kahto hogeya Tu Rude ve Jatta
Mere kolon meri Eh Bandook Puchhdi

Ho Lokaan de Dilaan ch Ghar ho jande Aa
Kayi vaari Gana aisa likh Jaayida
Vairiyaan nu milde aa Vairi Banke
Chahun waleyaan de Pairaan wich Vichh Jaayida

Aap hi bachaunda kude Sache Paatshah
Nahi Banda taan bande di Launda Chhill Allarhe
Nahi Banda taan bande di Launda Chhill Allarhe...
Haaye ni Agge aaya Hard Work Karke
Kiwen Soft rahuga mera Dil Allarhe

Haaye ni Agge aaya Hard Work Karke..
Kiwen Soft rahuga mera Dil Allarhe..

Vadda hoke Putt je Star Banje
Sath mera ditta Maa ne es Aas Te
Bapu da si Darr Thanedaar Varga
Milde si Paise Patrol Vaaste

Kirpa je hogi Neeli Chhatt vale Di
Kar dene aa Balance sare Nill Allarhe
Kar dene aa Balance sare Nill Allarhe...
Haaye ni Agge aaya Hard Work Karke
Kiwen Soft rahuga mera Dil Allarhe

Haaye ni Agge aaya Hard Work Karke..
Kiwen Soft rahuga mera Dil Allarhe..

Ho jande khatre aa paida Jaan Nu
Jad bande da Zamane ch Trend ho Jaave
Oh Vekheya na kar bahle khaab Mithiye
Khaore kehdi goli utte mera Wend Ho Jaave

Dassdi hundi aa billo value Bande Di
Arthi de pichhe laggi long Line Ni
Ho mere jaan pichho vairi vi ni jee Sakde
Enne ku taan munde ne Kama laye Fan Ni

Ho koi aakhe Down to Earth Nait Nu
Aakhda a koi banda kill Allarhe
Aakhda a koi banda kill Allarhe...
Haaye ni Agge aaya Hard Work Karke
Kiwen Soft rahuga mera Dil Allarhe

Haaye ni Agge aaya Hard Work Karke..
Kiwen Soft rahuga mera Dil Allarhe..!

R Nait
ਦੋਸਤੋ ਤੁਹਾਨੂੰ ਇਹ ਨਵਾਂ ਪੰਜਾਬੀ ਗਾਣਾ 'ਹਾਰਡ ਵਰਕ by ਆਰ ਨੇਤ' ਕਿਵੇਂ ਦਾ ਲੱਗਿਆ ? ਆਪਣਾ ਕੀਮਤੀ ਸਮਾਂ ਕੱਢਕੇ ਨੀਚੇ Comment ਕਰਕੇ ਜਰੂਰ ਦੱਸਣਾ ਅਤੇ ਅਗਲੀਆਂ ਆਉਣ ਵਾਲੀਆਂ Updates ਲਈ ਸਾਡੀ Website ਨੂੰ ਜਰੂਰ Subscribe ਕਰਨਾ ਅਤੇ Website ਸੰਬੰਧੀ ਆਉਣ ਵਾਲੀ ਕੋਈ ਵੀ ਕਮੀਂ- ਪੇਸ਼ੀ ਲਈ ਆਪਣੇ ਕੀਮਤੀ ਸੁਝਾਅ ਜਰੂਰ ਦੇਣਾ ਜੀ। ਧੰਨਵਾਦ
Guyz, How did you like this Latest Punjabi Song 'Hard Work by R Nait' ? Please take your time to comment below and feel free to subscribe to our Website for Future updates and also give your Valuable Suggestions for any upcoming site related issues. Thank you